Difficult - In So Many Ways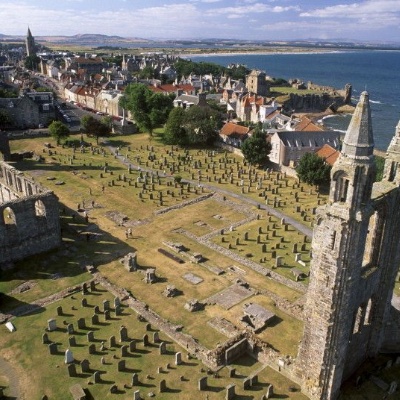 [Photo: St Andrews - Patrick Dieudonne / Robert Harding World Imagery / Universal Images Group]
Apparently, it is not easy to buy presents for me. When asked what I want for my birthday or at Christmas, I usually struggle to come up with anything creative by way of helping my family. This is mainly because of the belief that I have everything I need in life, which somehow just seems to happen when you reach a certain age. Although unable to remember a specific time or date when I realised I did not really want anything else, I am definitely there now. I have more ties than I need, more shirts, more shoes. Also a phone, an iPad, a laptop, a camera and a portable Bose speaker. Basically, I'm all set.
Books are always a welcome gift, as you might surmise if you are a regular reader of this blog, but the risk here is that I may well already own a copy of whatever someone chooses to buy me, particularly if you allow me access to a bookshop a few days before Christmas, which is what happened in December when we went up to Scotland – before such adventures were banned – to pick up our daughter from university at the end of last term.
There are lots of excellent reasons for visiting the Scottish town (or is it a city?) of St Andrews. The obvious ones include the chance to visit the castle and the ruined cathedral, and to soak up the atmosphere of Scotland's oldest university. A bracing walk on the West Sands, which run parallel to the Old Course, arguably the most famous 18 holes of golf in the world, is another favourite. Less obvious reasons might include the quality of the fish and chips at Tailend, the excellence of Eden Mill gin and the greatest piece of patisserie ever devised. If you have never encountered a fudge doughnut from Fisher and Donaldson, I assure you there is a significant gap in your life.
They say that middle age is the time when the narrowness of the waist and the broadness of the mind are reversed, and I remain convinced that the end of the days of my twenty-eight-inch waist can be traced to my first trip to St Andrews in 1991, when I have a memory of consuming four doughnuts in a single day. This may be nonsense, of course, but we all construct stories of our lives to fit the narrative we want to tell, so I will stick with this version of events in the absence of anything to the contrary.
A single doughnut with a cup of tea in the middle of the afternoon is more than sufficient nowadays, and it was while my wife was at the bakery securing these provisions that I was allowed to wander off on my own. My mission, which I had chosen to accept – as if I had a choice – was to purchase a book token to supplement my daughter's already considerable stash of Christmas presents. Topping & Company is an independent bookseller with branches in Bath, Edinburgh, Ely and St Andrews. I have only been to the last of these, but it is always a genuine delight and I was more than happy to pay another visit.
Well, you cannot just go to a bookshop and buy a book token, can you? Not when there are tables laden with exciting volumes to add to a collection, and not when Christmas is coming up, with the chance for guilt-free leisure in the absence of being able to go out and meet anyone. It did not take long for me to find my prize – 'Origins: How the Earth Shaped Human History' by Professor Lewis Dartnell, which I mentioned in this blog a couple of weeks ago. The publisher must have known that one day I would pick this book up because right there on the front cover is a review from the Sunday Times that says: 'Stands comparison to Sapiens…thrilling.' How could I not take it straight to the till?
Two weeks earlier, at this point unbeknown to me, my daughter had been in the shop – she goes there a lot – and had clearly experienced exactly the same thought. Given how often she has heard me banging on about Yuval Noah Harari, it was a complete no-brainer for her to buy for me what was clearly the perfect gift. A few minutes later, when I announced on my return to the car that I had found treasure at the bookshop, it was made clear that I had just ruined my own Christmas surprise. The next day, my copy was duly returned with appropriate sheepishness and exchanged for something else.
So, have you ever wondered why London has relatively few skyscrapers and, if you can remember what it is like to travel on the London Underground, do you know why it is so hot for the most part, even in the depths of winter and even, as now, when it is not jam-packed every day with people?
In 'Origins', Professor Dartnell explains that London is a city built around a river, with clay as the predominant underground feature, which is decidedly unaccommodating for constructing the tallest buildings of the modern age. The reason why London, in contrast to New York, has so few skyscrapers is this thick layer of soft, putty-like clay beneath the city. Towers like the Shard or One Canada Square in Canary Wharf had to be built with very deep-piled foundations to support their weight. The thick clay layer is, however, ideal for digging tunnels: it is soft to bore through, but it forms a stable and water-impermeable blanket for the tunnel.
He goes on to say that London built the world's first underground metro line in 1863 and today the Tube has been developed into a network of over 400 kilometres of lines, serving 270 stations. The underlying geography also explains why North London is so well served by the Tube network, but the south has far fewer lines. South of the Thames the clay layer dips to beneath the depth of the network, and tunnels must instead be bored through much trickier strata of sand and gravel.
It turns out that it is the geology beneath the city that explains the heat, with London clay the reason why it has become so uncomfortable. Underground caves are normally refreshingly cool, so this would appear as something of a paradox. In fact, when the tunnels were first dug the temperature of the clay was around 14 degrees centigrade – indeed, in the early days the Tube was advertised as a place to keep cool on a hot summer's day. However, after more than a century, the heat released by the trains' motors and brakes, as well as by the millions of passengers, has been absorbed into the tunnel walls. As the dense clay is a remarkably good thermal insulator, this heat has found nowhere else to go – a situation that presumably will only get worse in the coming years.
For the record, I am not sure I would go as far as to describe 'Origins' as thrilling. While I can quite understand the temptation to compare it to 'Sapiens', for me it was a little too scientific in places, where my preferences are more inclined towards anthropology. However, there were plenty of sections and ideas that I found very interesting, and I will happily share more of them with you, both now and in future blogs because, well, that's what I do!