We Will Remember Them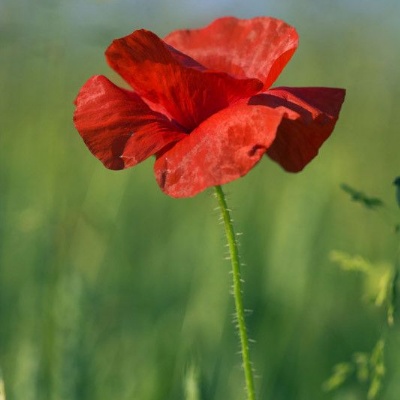 We have focused our attention this week on the annual Act of Remembrance through a series of assemblies for all the children. Sally and Quentin, our Heads of School, also joined me at the war memorial in Radnor Gardens at 11 o'clock today to lay a wreath on behalf of the school to pay our respects, quoting the famous words from Laurence Binyon's poem 'For the Fallen': "They shall grow not old as we that are left grow old; age shall not weary them, nor the years condemn. At the going down of the sun and in the morning, we will remember them."
In the assemblies, I shared a handful of photographs that I took when we visited the Battlefields of the First World War in France and Belgium with our Year 9 pupils earlier in the year. I always try to find a different angle to talk about, even if the key elements of the text I use to explain the context of remembrance and how it has developed in the last hundred years, do not change much from year to year.
I noticed as I was reviewing the pictures from the trip that there were several that highlighted soldiers who were missing. 'Known Unto God' were the words chosen by Rudyard Kipling, when he was working for the Imperial War Graves Commission, for the graves of the men from Britain and the Empire who could not be identified before burial. The French chose a single word, 'Inconnu', meaning unknown, while the Germans use 'Unbekannt', which also means unknown but is usually given a bit more context, such as 'Zwei unbekannte deutsche Soldaten'.
It is usually best, I have found over the years, not to dwell too much on why such graves are marked like this. In essence, it must mean that they found enough of a body to be recognised as a separate individual, though not enough to be able to identify whoever it was. Some of the unknown graves are able to name the regiment of the unknown soldier, but often this was not possible, which is never very easy to explain to pupils, or indeed anyone else. Perhaps one day, it may be decided to use DNA technology to try to make more progress with the identification of the dead, but that moment is not here yet.
I am not sure whether it is better or worse to think about the memorials to the missing that appear across the battlefields. If a name appears on one of these, it can only mean that the person is presumed to be dead and no trace of them was ever found. The Menin Gate in Ypres has over 54,000 names on it but they ran out of space for those who were lost after August 1917, so another 35,000 names are inscribed on the Tyne Cot Memorial to the Missing, just a few miles up the road. On the Somme, the Thiepval Memorial has over 72,000 names and has the dubious honour of being the largest Commonwealth Memorial to the Missing in the world. Smaller memorials appear across the Western Front, wherever battles were fought, as well as across the global battlefields of the Second World War.
The issue of the missing in war has been highlighted this week by the BBC in relation to what has been happening in Ukraine, with specific reference to Mariupol, which held out for so long at such a high cost at the start of the conflict. It is becoming increasingly clear that there are going to be thousands of graves across the areas where the fighting has been taking place, many of which will contain bodies that will not be able to be identified, and it seems hard not to think that many other people will be found to have disappeared without trace when the time finally comes to do a reckoning of the living and the dead – on both sides.
On the recommendation of a parent, I have recently read a book by Otto English called 'Fake History (Ten Great Lies and How They Shaped the World)'. While I appreciate that there may be a danger that my love for such books is beginning to verge on the obsessive, the trouble is that they are very good and they make me think about how I see the world, which strikes me as a very good thing as I get older and prone to becoming even more set in my ways. The ideas that follow also link to last week's piece about nationalism, even if they may generate a degree of controversy for their line of argument.
Otto English highlights that the Anglo-Irish political scientist Benedict Anderson defined nations and empires as 'imagined communities' – social constructs that are essentially imagined into being by leaders and people who consider themselves to be part of the group. Imagined communities, by their nature, forge something else – an exceptionalism that English calls 'the conceit of we', which insists the citizens of nations act homogeneously, have similar 'habits', a shared collective heritage and a common identity.
He sums this up as follows: 'we' drink tea; 'we' developed democracy; 'we' have a better sense of humour than you; 'we' have stiff upper lips; 'we' won the war; 'we' are a Christian country; 'we' have never done this; 'we' have always done that; 'we' have more history. 'We' – let's face it – are better than 'you'.
As we see all too often, politicians like nothing more than talking up a bit of 'we' in a crisis. 'We' survived the bubonic plague, the Napoleonic wars and the Blitz, so 'we' will survive Brexit, coronavirus and economic hardship. He describes 'we' thinking as cult thinking, to which millions of people ascribe. In its broadest form, he says, it is probably better known as 'nationalism'.
Einstein called nationalism 'an infantile disease, the measles of mankind' and said its most obvious symptom is the abrogation of reason. English makes the point that the idea that people born in a geographical region have some common spirit and a common destiny is nonsense, but it is compelling nonsense. Nobody chooses the place of their birth. Nationality is happenstance, but it can condition millions of people into believing that their tribe is better than everyone else's, thereby creating a vicious and dangerous climate of extremism.
He goes on to say that although the Second World War ended in 1945, many in Britain have never come to terms with what actually happened, maintaining a seemingly incurable case of war delusion, which manifests in October and early November as what he calls 'War Christmas' – an orgy of flag waving, poppy wearing and misty-eyed remembrance for a conflict that 98% of people cannot remember. But if anyone dares to challenge the sacred texts of either the First or Second World War or to suggest that we should move on from all this indulgence, they risk inviting significant ire.
He concludes with his opinion that the awkward truth is that remembrance in Britain no longer has much to do with the wars and has instead become a sort of nationalistic tribal indulgence, with the poppy a badge of fealty to faith in the cult. Its absence from the lapels of television presenters is called out and condemned, and it is a symbol that has been sentimentalised and, in some cases, even weaponised.
While I share his frustration with the three-line whip across the broadcast media for three or four weeks, whether reading the news or dancing in Strictly, and I question the need to produce football shirts with poppies that will be worn only once or twice, I am not yet ready to accept that remembrance has lost its way in this country. In John McCrae's poem 'In Flanders Fields', which I read in all the assemblies this week, the last verse exhorts the next generation to carry the torch and not to break faith with those who die, which is very much the message I wanted the school to take on board this year.