Annual Rotary Club Technology Challenge Winners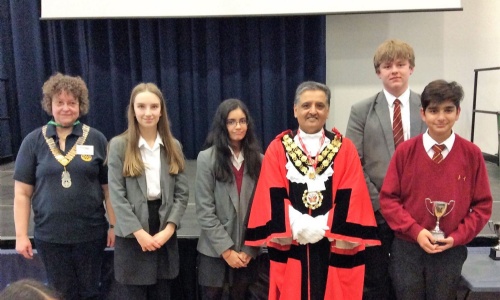 On Tuesday four teams of Radnorians from Year 9, Year 10 and Sixth Form, took part in the annual Rotary Club Technology Challenge and brought home a trophy for the fourth year running!
Among the many highlights, this week was another victory for our technologists in the annual Rotary Club Technology Challenge. The allocated task was to build a motorised crane that could carry out a remote rescue of a toxic barrel.
This is the fourth year in a row that Radnor pupils have won a trophy at this prestigious event, so very well done to Umair, Alexander, Anouska and Isabel (all Year 9), who came first in the Key Stage 3 event, and to Sam, Harry, Ryan and Tomas (also all Year 9), who were runners-up.
Eddie, Kataleeya, Charlie and Lewis (all Year 10) came third in the Key Stage 4 competition, while Guy, Harry, Max and Rohan (all Lower Sixth) also finished third in the senior competition. All the teams demonstrated excellent teamwork skills, alongside plenty of independent thinking and perseverance in producing their working solutions.