ISA Award 2021 Finalist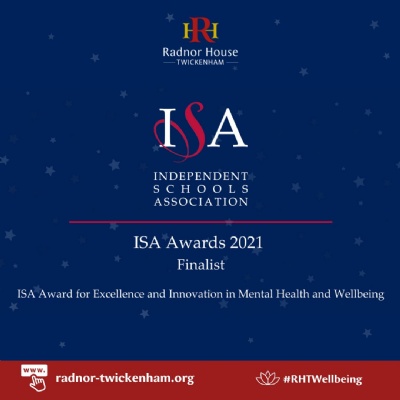 ISA Award Finalist for Excellence & Innovation in Mental Health & Wellbeing
We are delighted to announce that Radnor House has been shortlisted as a Finalist for the ISA Award for Excellence and Innovation in Mental Health and Wellbeing.
At Radnor House, we take a holistic approach to mental health, supporting and promoting the wellbeing of everyone in our community - pupils, staff and parents. We aim to create a culture of awareness of mental health needs, with no stigma or discrimination, providing high-quality mental health training for all. Wellbeing is not a given in life, it is something that needs to be worked on in much the same way as physical health.

Radnor House places pupils' wellbeing at the centre of everything that we do, and we have a range of approaches to support pupils in navigating the pressures of growing up in the ever-evolving modern world.
A huge thank you and a very well done to Mr Ellard - Head of Wellbeing, for his incredible vision and hard work in leading our Mental Health and Wellbeing Programme, and to all who have supported our pupils and staff at Radnor House.