Radnor House celebrates Black History Month 2023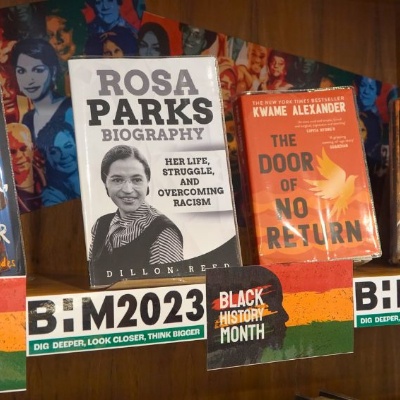 This year for Black History Month we celebrated Black British history, aiming to inspire our pupils to keep discovering more about Black British culture and history throughout the year.
Ms Tait and Mr Irving from our History and English departments led a week of assemblies as part of our Black History Month celebration and reflection. Pupils learned about Black British History in order to recognise and celebrate the contributions to British society.

Mr Irving shared his book recommendations from Black British authors and creatives. These touched on topics such as Black British experiences and identity, as well as the contributions to the British Music and Entertainment Industry.
As part of their Reflections lessons, our pupils in year 7 and 8 were given a presentation by singer/songwriter and radio presenter Eleni C. She gave them advice on how to react should they experience or witness discrimination, and about the importance of conversation surrounding mental health. In addition to this, the pupils were treated to an amazing musical performance!
Our A Level English and History pupils visited the British Library to support their work on the Windrush Generation.
"Pupils are currently studying Sam Selvon's 'The Lonely Londoners'- a novel about the struggles of The Windrush Generation and their arrival in postwar London. Pupils took two workshops, one celebrating the resilience of black immigrants to the U.K, focusing on oral history and the importance of recording voices as part of history. The second was with the writer Sandra Agard and focused on exploring the history of Black British literature and how this has exploded in the past decade." - Ms Child
"Our Upper Sixth pupils studying English literature and history visited the British Library on Monday for two workshops. One focused on the Windrush Generation and the way historians are recording oral history accounts, and the other was run by the writer Sandra Agard and looked at the history of Black British Literature. The pupils were also treated to a visit to the library's Treasure Room, where they discussed how the library curates objects and tries to change the displays regularly to keep up with current events." - Mr Wideman
Our librarians Mrs Melling and Mr Johnson have been promoting their reading recommendations and resources in a Black History Month display. Some books were fiction, celebrating Black authors, and others were non-fiction, telling the story of inspirational and influential Black people throughout history. They have some great suggestions! If you missed these, don't worry; these books will be available in the school library year-round.
Please see below for some educational resources and reading recommendations.