Junior School Healthy Food Showdown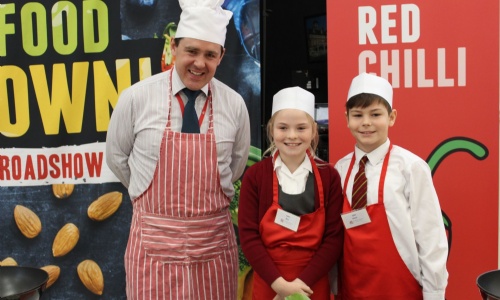 Junior School pupils in Year 5 and Year 6 took part in a highly interactive workshop based on the TV show Ready, Steady Cook, raising awareness about Healthy Eating.
In the food showdown, the Year 6 team - Red Chilli, of Mr Hill assisted by Erin and Victor competed against the Year 5 team - Green Peas, of Miss Edwards and her sous chefs, Louis and Aryiaana, to cook a healthy, balanced meal in just fifteen minutes.
Year 6, with creative input from Jack and Charlie, created a turkey stir fry, while Year 5 made a spinach and lentil biryani accompanied by Bombay potatoes. The winners, by just one vote, were Year 6.
Such a buzz was created about healthy food, whilst the children learnt about the importance of healthy eating and how it can lead to improved concentration, better health and behaviour.