All Relatively Quiet on the Western Front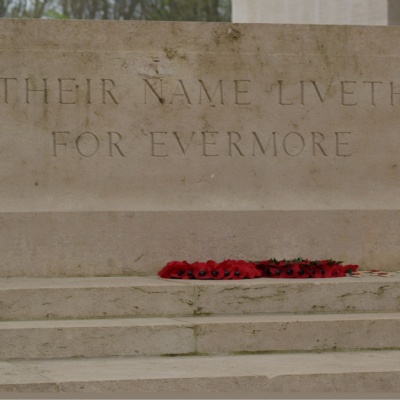 Looking back at what I wrote last year about our trip to the Battlefields of the First World War, I was a bit surprised to find that I managed to churn out three separate blogs about what happened. I know I have the capacity to go on a bit (well, quite a lot, to be honest), but to end up with nearly 4,000 words about a three-day trip seems a tad excessive even by my standards. I therefore begin this week's effort with the clear intention of covering everything in one attempt.
The outbound journey last year was so traumatic that I needed a whole blog as a sort of catharsis for the psychological turmoil that it caused. This year, thank goodness, was much more straightforward and therefore requires less therapy, but I cannot let it pass without another scream into the abyss about the farce that is the current border control process at Dover and Calais. I did not reach the point of exasperation that we witnessed from a teacher from another school on Sunday afternoon, engaged in a full-on shouting match with a British official after being made to wait over three hours with his bus full of younger pupils, but something clearly needs to change because otherwise coach travel to the continent will become so undesirable that no one will want to do it.
As the lorries and cars moved through at a sensible pace, the coaches queued and queued. The post-Brexit requirement for everyone's passport to be checked and stamped is frustrating and will only get worse with the planned introduction of biometric testing in the next year or so – though this has already been postponed more than once because (quelle surprise!) they do not seem to be able to get the IT to work properly. However, I do not understand why everything has to be checked so often.
On the way out, we were ushered into a holding area while a man tried to use an iPhone with no signal to scan nearly forty passports. He took about fifteen minutes to do half of them, then gave up as the technology failed completely. On the way home, all the passports had to be checked at the P&O box, then we all had to get out to walk through French customs and British customs, both of whom insisted on scanning all the passports. When I went to show my passport to the French officer, I saw that he was watching the La Rochelle vs Exeter Chiefs rugby cup semi-final on his phone, with seemingly no consequences from anyone in his line management structure about his lack of focus on the job in hand.
Such trips always have different impacts on different people, with some notably engaged and questioning while others can seem inattentive and uninterested. However, appearances can often be deceptive, with the process of assimilating so much information needing time to ferment. Numbers come thick and fast: 73,000 names of the missing at Thiepval; 44,000 buried at the German cemetery at Langemark; 20,000 soldiers killed on the first day of the Battle of the Somme on 1st July 1916.
Individual stories may be more helpful, such as those of Captain Duncan Martin and Lieutenant William Noel Hodgson at the Devonshire Cemetery at Mametz, or those of the family members of our pupils whose graves and memorials we were able to visit – long-lost relatives but with a personal meaning that cannot be found in the quagmire of statistics that matches the quagmire on so many of the battlefields, not least at Passchendaele in 1917.
I read the pupils the last paragraph of Martin Gilbert's 'First World War', which has always struck me as perceptive: 'This remembrance of the dead, linking the two world wars of the twentieth century, brought home to me the links between the individuals who fought, and those who remained to guard their memories. All wars end up being reduced to statistics, strategies, debates about their origins and results. These debates about war are important, but not more important than the human story of those who fought in them.'
There was also time to attend the Last Post ceremony at the Menin Gate and for three of our pupils to lay a wreath that we made at the Poppy Factory in Richmond during Make A Difference Day last year, which added to the poignancy of the occasion. Talbot House in Poperinge gave an insight into life behind the lines, in the same town where over 300 men accused of cowardice and desertion were shot at dawn 'pour encourager les autres'.
In the end, if one pupil on the trip has had their perspective altered, their curiosity piqued or a flame of passion lit, it has been a worthwhile exercise. I was in my late twenties when I first made what I have come to think of as a pilgrimage, an experience that changed my life. Thirty years on, my perspectives may well have changed, but I remain awed by what I see each time I go, and I am already planning a personal trip with friends later this year.
Our last cemetery stop was at Essex Farm, where John McCrae wrote 'In Flanders Fields', perhaps the most famous of the poems of the First World War. Another point of interest there is the grave of Valentine Joe Strudwick, who was just fifteen years old when he was killed. It is clearly a much-visited spot because the Commonwealth War Graves Commission has made the unusual decision to lay Astroturf from the cemetery entrance to Strudwick's grave, for reasons I can understand, but with which I am struggling to come to terms, perhaps because it seems to undermine the otherwise sacred nature of the site.
In Flanders Fields by John McCrae
In Flanders Fields, the poppies blow
Between the crosses, row on row,
That mark our place; and in the sky
The larks, still bravely singing, fly
Scarce heard amid the guns below.

We are the dead. Short days ago
We lived, felt dawn, saw sunset glow,
Loved and were loved, and now we lie,
In Flanders fields.

Take up our quarrel with the foe:
To you from failing hands we throw
The torch; be yours to hold it high.
If ye break faith with us who die
We shall not sleep, though poppies grow
In Flanders fields.
I think I first went to the battlefields in 1992, which means I have been going now for over thirty years, clocking up close to twenty trips so far. None of the three colleagues I travelled with this time had been born in 1992, so perhaps we are reaching the point of the torch passing to the next generation of teachers, who can in turn pass it to the next generation of pupils.
It will not be long before anyone who fought in either of the world wars is left alive. I imagine there will come a time when people begin to question the value of the elaborate remembrance that can be found around the world, but especially in Western Europe, and they will start to suggest that it might be time to move on. I can only hope that when that moment comes, the response from right-minded people is a resounding no.
We do not ever seem to learn from the lessons of history, but we can surely still take much from the courage and sacrifice of those who fought, however futile their deaths might sometimes seem, and appreciate that some things are worth struggling for more than others. I have yet to change my mind about the power of these trips and I can only hope that others are willing and able to see this as well, so that they can share the emotion and reflection in the future – as long as we do not reach a point where queuing to cross the channel takes longer than the trip itself!