E = P + R + C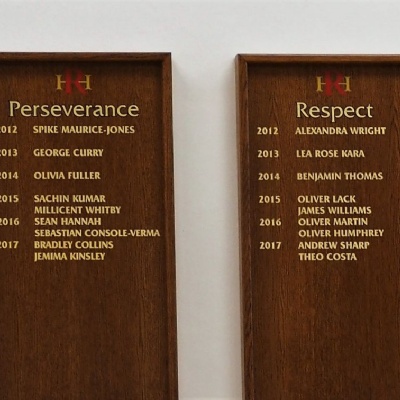 This week was probably the last chance we will have to do a full round of assemblies with all the year groups because it will not be long before the theatre is set up for the GCSE and A Level examinations, and we will all turn our focus to end of school year tests, both external and internal. It therefore seemed appropriate to use the honours boards on the theatre wall to highlight the core Radnor values once more.
Starting with respect, I issued a few reminders about uniform, such as wearing a jacket or blazer to and from school every day, remembering to be quiet when exams are taking place so that everyone can concentrate properly, and making sure we speak politely to each other and to everyone who works here so that we can all feel proud of being part of our school community.

Responding to instructions as part of being respectful led to a useful link to the recent incident on a Southwest Airlines flight. As the passengers tweeted selfies during the emergency, I was impressed by the cabin crew's retweets that they would have been better off paying more attention to the people trying to help them, not least by listening more carefully and actually putting the oxygen masks over their mouths and noses, rather than just their mouths, as instructed at the start of every flight.
The value of courage was epitomised by the pilot. Faced with the disintegration of one of the plane's engines, the emergency of a passenger being sucked out of a broken window and the challenge of saving nearly 150 lives, the calm approach under such pressure was exemplary. This pilot had previously gained a degree in agribusiness and biology, joined the US Navy and spent ten years flying fighter jets and will now surely be the subject of a film along the lines of 'Sully', based on the heroism of Chesley Sullenberger landing his plane safely on the Hudson River. The twist here, of course, is that the pilot in question was Tammie Jo Schults, a married mother of two, so they won't be able to get Tom Hanks to play the role in a film! I made the point to our girls that this clearly demonstrated they could do anything they want with their lives, if they put their minds to it; as could the boys, of course.
However, success at any level and in any field is very rarely possible without perseverance. With exams looming, this is exactly the time when everyone needs to show this core value more than any other. There will inevitably be some stress involved in the process, but this is no bad thing if it can be managed and controlled properly. Our hard-wired 'fight or flight' reflex has developed over thousands of years to boost our adrenaline levels and keep our species going. While our distant ancestors may never have anticipated that such a crucial reflex would need to be deployed in an exam room, it is nevertheless part of our DNA and something we have to deal with.
I told the story about the golfer Arnold Palmer, whose study in his house is apparently very simply decorated. The only trophy in there is the first one he ever won, with rest being displayed elsewhere, and a copy of a poem called 'Thinking' by Walter D. Wintle, which I read to the children. It goes like this:
If you think you are beaten, you are.
If you think you dare not, you don't.
If you like to win but think you can't,
It's almost certain that you won't.
If you think you'll lose, you've lost.
For out of this world we find
Success begins with a fellow's will –
It's all in the state of mind.
If you think you are outclassed, you are.
You've got to think high to rise.
You've got to be sure of yourself before
You can ever win a prize.
Life's battles don't always go
To the stronger woman or man,
But sooner or later, those who win
Are those who think they can.
It therefore seemed appropriate to sum everything up by suggesting that the core value of excellence is what we are all seeking as the outcome for everyone's school career. If we can add up the other values of perseverance respect and courage, then we give ourselves the best possible chance of reaching the excellence we are seeking, hence E = P + R + C. As someone wiser than me once put it, a successful life is an accumulation of successful days.