Head's Address - Prize Giving 2020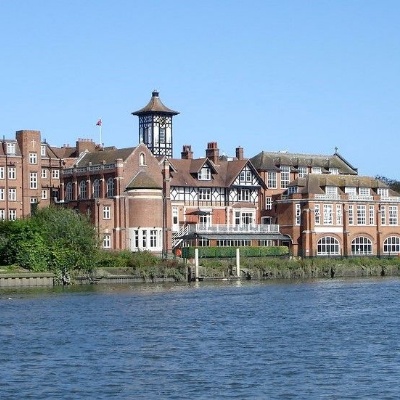 The scientist Marie Curie once said: 'Nothing in life is to be feared, it is only to be understood. Now is the time to understand more, so that we may fear less.' If that is not the perfect summary of recent events, I don't know what is.
My personal sense of time has gone badly awry in the last few weeks. For example, my wife and I enjoyed a trip to Lisbon in the February half term, which was actually only four months ago but which feels like half a lifetime. If you spend your life in a school, you get used to blocking out time and to thinking in weeks – usually how many there are until the next holiday. But all the normal time parameters seem to have gone out of the window since March, as we have all experienced the most unusual few months of our lives.
In one of the recent weekly bulletins, I mentioned a Michael McIntyre sketch I had seen where he visited a fortune teller in June 2019 and asked him to look ahead for the next twelve months. Aside from the obvious jokes about home schooling, which I appreciate will be a lot funnier for some than others, bad hair days, which I can increasingly relate to, and wearing tracksuit bottoms all day – which is for me to know and you to find out – the most acute observations highlighted the new obsession with hand sanitiser, the start of every conference call with 'Can you hear me?' and 'I think you are muted', and, the one that brought a tear as well as a laugh – the prediction that emails would no longer be signed with 'Best wishes' but with 'Stay safe'.
If any of us had looked into a crystal ball at the start of the school year in September, we might perhaps have predicted that Boris would win an election, that Brexit would continue to dominate and, maybe, that Liverpool would win the Premier League. As far as school was concerned, we knew that the inspectors would come calling, we were looking forward to working with new colleagues and we thought the exam results in 2020 had a good chance of securing some positive outcomes.
I remember doing a round of assemblies at the start of the year, highlighting some of what I considered to be the most interesting ideas from my summer reading. Among the points I mentioned was the idea that we cannot actually multi-task, and instead end up doing several different things badly instead of doing one thing properly.
I told the pupils that a child born today has a 50% chance of living to be one hundred years old, compared to a 1% chance a century ago. But I think the idea that most of them will have remembered is that you cannot lasso a zebra because they have an unfailing ability to watch the rope noose fly towards them and then to duck their head out of the way.
This obscure fact came from a book called Guns, Germs and Steel by Jared Diamond, which set out a series of plausible explanations about why it was that European civilisations came to dominate the western world rather than those from the Americas or Africa. The point about the zebras is that it meant that people in Africa could not domesticate them as beasts of burden while people in Europe were able to use horses much more efficiently. As attention is rightly focused on the Black Lives Matter agenda and the wholly justified drive for a more equal society, it is worth making the point, I think, that inequality has not just been caused by slavery and its history. As ever, it is much more complicated than that.
The final slide on that first assembly contained just five words, which had come to me at some point over the summer, but which I had never before articulated in such a simple way – work hard and be kind. If I was starting a new school, I think that would be my chosen motto – words that epitomise everything, but reduced to the simplest level, which is so often best. Alas, just a quick Google search shows that plenty of people have got there long before me and there are schools already using it. No matter – it still works. Work hard and be kind.
The autumn term was very much 'business as usual' for the first few weeks, with the new cohort of staff settling in quickly and making a difference across many aspects of school life. I remember this time last year there was anxiety in several quarters at the high level of staff turnover, but it was not a worry I shared. I knew the calibre of the new people we had hired, and I was confident they would be the catalyst we needed to help take the school to the next level. The American polymath Daniel Levitin provides one of my favourite quotations, in his book The Organized Mind, when he wrote: 'My own experience is that when I've lost something I thought was irreplaceable, it's usually replaced with something much better. The key to change is having faith that when we get rid of the old, something or someone even more magnificent will take its place.'
I wrote to all the new staff a couple of weeks ago to thank them for everything they have done this year, in whatever circumstances, and to remind them that they have contributed to the most effective collective effort I have seen in a school in over thirty years of teaching, since I first went into a classroom in 1988.
I have worked in schools that are much more well-known than Radnor House, that have more famous alumni, and that achieve more success in exam results and co-curricular activities. But each of these other schools was riddled with cliques and divisions, had some brilliant staff and some real duffers, bad leaders and lazy managers, and often seemed to be successful in spite of the staff rather than because of them. Here, it feels like a genuine team effort and I am convinced that is why we have been able to achieve so much.
If nothing else, we are good at change management. We have to be, because we have had so much practice at it. And so it was again when we returned from the October half term break to the news that the school had been sold to new owners, dissolving our partnership with David Paton and Sevenoaks to join Aatif Hassan and Dukes Education.
While being sensitive to those who were understandably worried by yet another change, I continue to believe that this was the best thing that has happened to the school in its short life. Dukes has offered us a financial security that has turned out to be exceptionally helpful in the last few months. It has provided opportunities for training and development for our staff, links to similar schools and, above all, the confidence to consider a host of possibilities for the future. If great leadership is all about honesty and integrity, then Aatif walks the walk as well as he talks the talk, and for that we should all be very grateful.
The Christmas break gave everyone a chance to regroup and to reflect on a successful term of achievement in the classroom; on a real step up in the ambition and quality of our performing arts provision, for example the lovely soiree at St Mary's Church in Twickenham (and later, of course, the outstanding production of Little Shop of Horrors); on success on the sports field, with wins in national competitions and against schools we did not used to beat; and on a sense that we were as ready as we could be for the inspection we knew was looming. Over the New Year, news stories started to circulate about a virus in China, but it seemed far away and unlikely to trouble us.
On the first day of February, after what seemed like months of waiting on tenterhooks, the call finally came that we were going to be inspected by the Independent Schools Inspectorate. For three fretful days, we boxed and coxed with the inspectors, at times bemused by what they were asking us to do to become compliant for that part of the process. I am still not sure if I dreamed the meeting where we were told we needed to install additional electrical sockets in almost every room in twenty-four hours or risk being failed. Thank goodness that common sense prevailed somewhere along the line and this was deemed unnecessary.
Among the many messages of congratulation after it was all over, there were several along the lines of: 'Well, I'm not surprised the school was judged as excellent all-round, because we have always known it to be great.' While it was lovely to know that people had such confidence, there was a part of me that wanted to reply to say that there was so much more to it than that. I had read enough reports from similar schools to know that they were more often judged as 'good' than 'excellent', with it being too easy to find enough small faults or one significant one to take the top rating out of reach. There was no inevitability in my mind that the outcome was a foregone conclusion – far from it.
When the lead inspector told me that they were grading the school as excellent in both categories, I confess that I had a tear in my eye. I was delighted that the efforts of so many people had been duly recognised, but it was also a moment of intense personal satisfaction. This was the third time I had been through a full inspection. The first time the school I was working in was judged as 'good' and 'good'. The second time, a different school was 'good' and 'excellent', so this represented the final step along the way. But, for the avoidance of all doubt, this was a team effort. As US president Ronald Reagan put it: 'Surround yourself with the best people you can find, delegate authority and don't interfere.' Indeed.
Although all of our personal timelines are out of kilter at the moment, I am fairly sure it was at the February half term break that I said to the staff that they should make sure to enjoy the moment. If they end up with thirty-year careers in teaching, there will not be that many times when the stars align and they find themselves working in an environment where the ownership, leadership, management, pupils, parents and, especially, colleagues are all so much on the same page, singing from the same hymn sheet and moving towards the same goals. Enjoy it, I said, because you don't know how long it will last…It lasted less than a month.
There was a lot written at the start of lockdown about many of positive outcomes from times of adversity, and indeed plague. Some of Shakespeare's best plays were written when he was away from London in the early 1600s, and Isaac Newton is alleged to have been hit by that apple when he was at home and not in Cambridge during an epidemic. The Roman emperor and philosopher Marcus Aurelius wrote during a time of plague: 'You have power over your mind, not outside events. Realise this, and you will find strength.' When reality struck, this was probably rather more easily said than done.
One of my observations at the start of the year, and again at the time when the school changed hands, was that the school's Senior Leadership Team (usually known as the SLT) comprised a series of very effective managers, but I wanted to try to find ways to help them develop their leadership skills in the coming months. I was probably thinking that we could find some training and development opportunities, but, like so much else nowadays, that feels long ago and far away.
A combination of dealing with the challenges of the inspection, and then the far greater challenges of everything that has happened since March, has forged leaders in the white heat of events and they have indeed found strength in adversity. Stephen Carrington has been a source of unstinting support to me, willingly sharing the load with communications, organisation and innovative planning. Eliza King has worked tirelessly with our Heads of Year and Form Tutors to support the pastoral welfare of our school community. Henry Meller, supported by Emma Hedley, has overseen the content and delivery of the remote learning, with constant reflection and fine tuning. Peter Baker has organised the immense complexity of gathering, auditing and submitting the grades we have sent to the examination boards for A Level, GCSE and the host of other qualifications we offer here. Laura Gedge has written and rewritten timetables for those away from school and those coming back, ensuring staff can be available as far as possible, even when they sometimes need to be in more than one place at a time. Adam Jones has helped the whole school community with the wellbeing newsletters and a host of suggestions for our physical and mental health. Peter Nathan, despite only joining the school in January, has risen to the host of challenges of leading and supporting our Sixth Form pupils, both those who are leaving us at the end of their time here and those who are moving into their last year at school in September. Huma Ali has worked tirelessly to keep the financial side of the school on track, at a time when the wider economic problems have inevitably impacted on many Radnor families.
It has been a genuine leadership team this year, with each person having to rise to challenges that no one could realistically have foreseen, proving themselves as both individually and collectively outstanding. It is a genuine privilege to work with them and I thank them all for everything they have done. I could not have come close to being able to lead the school through such choppy waters without them and I am immensely proud to call them colleagues and friends.
If I were to thank everyone else who deserves it, you could still be watching this well into the summer holidays. So many people have been outstanding in recent months, in every area of school life. As many of you will know from your own work experiences, it is not easy to keep a team together remotely. At school, we have had people who have been in the building pretty much every day since March 20th, some who have been here occasionally, some who have wanted to be here but have been unable to – either for reasons of health or because we had to take the tough decision to put some of them on furlough.
For many, it will be a relatively easy task to drop back into familiar routines; for some it will be more difficult and, I imagine, some will find it a real struggle. That is why one of our key tasks in September will be to carry out a thorough process of audit and triage for everyone, not just to ask if everyone is all right and to hope they say yes, but genuinely to listen to them and to help wherever we can. Catching up with any gaps in the pupils' education will, of course, be important, but it will be nowhere near as important as bringing the school community back together, both physically at first and emotionally over time.
There is a lot that we can learn from the last few weeks and lots that we will need to incorporate into our future thinking as we plan for the next few years. One of the most interesting things that I have heard discussed is how different pupils have come to the fore during the remote learning, with some who have struggled in the usual school environment thriving without the distractions of their classmates or the hustle and bustle of the classrooms.
Mark Twain once told a story about a man who scoured the planet looking for the greatest general who ever lived. When the man was informed that the person he sought had already died and gone to heaven, he made a trip to the Pearly Gates to look for him. Saint Peter pointed at an ordinary-looking chap minding his own business on the other side of a cloud. 'That isn't the greatest of all generals,' protested the man. 'I knew that person when he lived on Earth, and he was only a shoemaker.' 'I know that,' said Saint Peter, 'but if he had been a general, he would have been the greatest of them all.'
We would all therefore be well advised to look out for the shoemakers who might have been great generals, for example by focusing on those children whose talents are too often stifled, whether at school or elsewhere, or those adults whose strengths may come to the fore in times of crisis.
As we now look ahead to what we all hope will be better times, and with the debates and discussions about statues and, much more importantly, equality in recent weeks, I will bring my summary to an end with this thought from Pericles, the Athenian statesman and general: 'What you leave behind is not what is engraved on stone monuments, but what is woven into the lives of others.' The motto of Dukes Education is Together We're Extraordinary, so as we look to get back together in school in September, which will surely be the case in the absence of any second peak of infection, let us commit to be being even more extraordinary and to weave everything we believe to be important into the lives of everyone in our school community, and as far beyond as we can.
Thank you to everyone for…well, everything really. If we had been together in a marquee, this would have been the point where I would have asked you all to stand up and, in an echo of what so many of us did every Thursday evening during the worst of the pandemic, to give a round of applause – to the staff, to the parents and, above all, to the children, for all the hard work that has gone on, for all the effort that has been made and for all the positive outcomes that we can take from this unwanted situation as we look ahead to the next exciting stage of the school's development. I'll let you decide for yourselves, wherever you are watching this, whether that is a practical thing to do, but even if you just say thank you out loud, that will probably make the point.
Even if we will not look back fondly any time soon, or perhaps ever, at the last few weeks, at least no one can say it's not been an interesting rollercoaster of a ride. Here's to the future, and to a better world where the important lessons are learned and where we make more effort to work together to solve our collective problems.
A long time ago, or was it last week, I heard a man called Victor Allen say this: 'If you're alive, you've got a problem; but it's not the problems that mark you out, it's how you deal with them.' How very true.
Thank you.