So Many Ways to Begin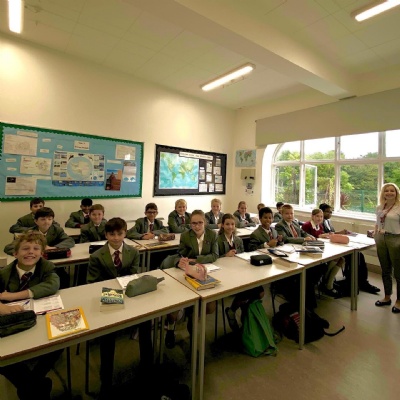 A new school year begins, with all its exciting possibilities and opportunities. There are lots of new pupils in the school, and new parents as well of course. There are remarkably few new staff for once at Radnor House, which I suppose is hardly a surprise at the moment. Still, at least it was a quiet summer, with hardly any educational controversy, and at least we can start the new term without having to worry about too many other things beyond the key focus of teaching and learning…and then every morning I wake up!
I usually try to limit these blogs to less than a thousand words. If I started writing my thoughts about the incompetence of the Secretary of State for Education and most of his pals in government, I would probably be able to write enough words to last the term, so I thought I would save that delight for later and start the year on a quieter note, using the title of a novel as the rather apposite title for this piece – so many ways to begin.
Although I am more than happy to watch a film that I've already seen – I think I may have seen Airplane nearly a hundred times over the years, and it still makes me laugh even though I know it almost word for word – I have always struggled with the idea of reading the same book more than once. There is no particular logic for this reasoning, just a stubbornness that has developed over time, I think.
An author whose work I enjoy is Jon McGregor. Regular readers of this blog may recall that my preference for holiday reading is usually non-fiction, but there should always be room for a good story, in this case told by an author whose writing resembles poetry as much as prose, which would certainly be how I would describe McGregor's work.
When I like someone's writing, I tend to want to collect all their work, usually obsessing about reading the books in the right order and making sure they are properly aligned on the bookshelf. You can keep your Kindles and iPads for reading, as far as I am concerned. A book should be held and cradled, as well as being dropped and bent and having tea spilled on it. The car may end up too full for the journey because there are too many bags of books taken on the summer holiday, but that seems a small sacrifice to make for the joy of the shady corner of the garden and the pleasure of the non-electronic reading experience.
McGregor's first novel was If Nobody Speaks of Remarkable Things, published in 2002 and first read by me at about that time. It was one of those books that stayed in my mind and which I would have put on a list, if anyone had ever asked me for a 'top ten reads'. Somewhere along the line I must have lent it to someone, which is not something I do very often, precisely because I cannot remember to whom I gave it and therefore do not know who to ask to get it back.
Having bought and read everything else that McGregor has written, there was always a void on the shelf where If Nobody… should have sat. After several years of fretting at my incomplete collection and the disproportionate sense of loss that I was feeling, I did what I should have done ages ago and simply bought another copy – which was where things started to unravel even further.
Common sense might have dictated buying the book and just putting it on the shelf. I managed this reasonable approach for several weeks, but there was always the nagging doubt that a book recently bought must be read. So, once I had exhausted my pile of non-fiction, the details of which will no doubt fill the pages of this blog in the coming weeks, I gave in to my various neuroses and settled down to re-read what I had remembered as one of my favourite books.
While it was still a good read, I confess that I did not really enjoy it the second time around and I wish I had been able to let the sleeping dog lie. While I feel vindicated that my dogma of not going back to read a book for a second time was proved right in this case, this sense of satisfaction is not strong enough to offset the frustrations caused by not loving the book as much as I did the first time around.
So Many Ways to Begin is the title of Jon McGregor's second novel, published in 2006. As you can probably work out, I do not plan to read it again, even though I very much enjoyed it previously. It did, however, strike me as the perfect title for this blog at the start of the new school year, with all its hopes and dreams and, more than ever this year, its understandable doubts and fears. Welcome back, everyone!